charity
challenge
Sky's the limit.
THE STORY OF THE FIRST CHARITY CHALLENGE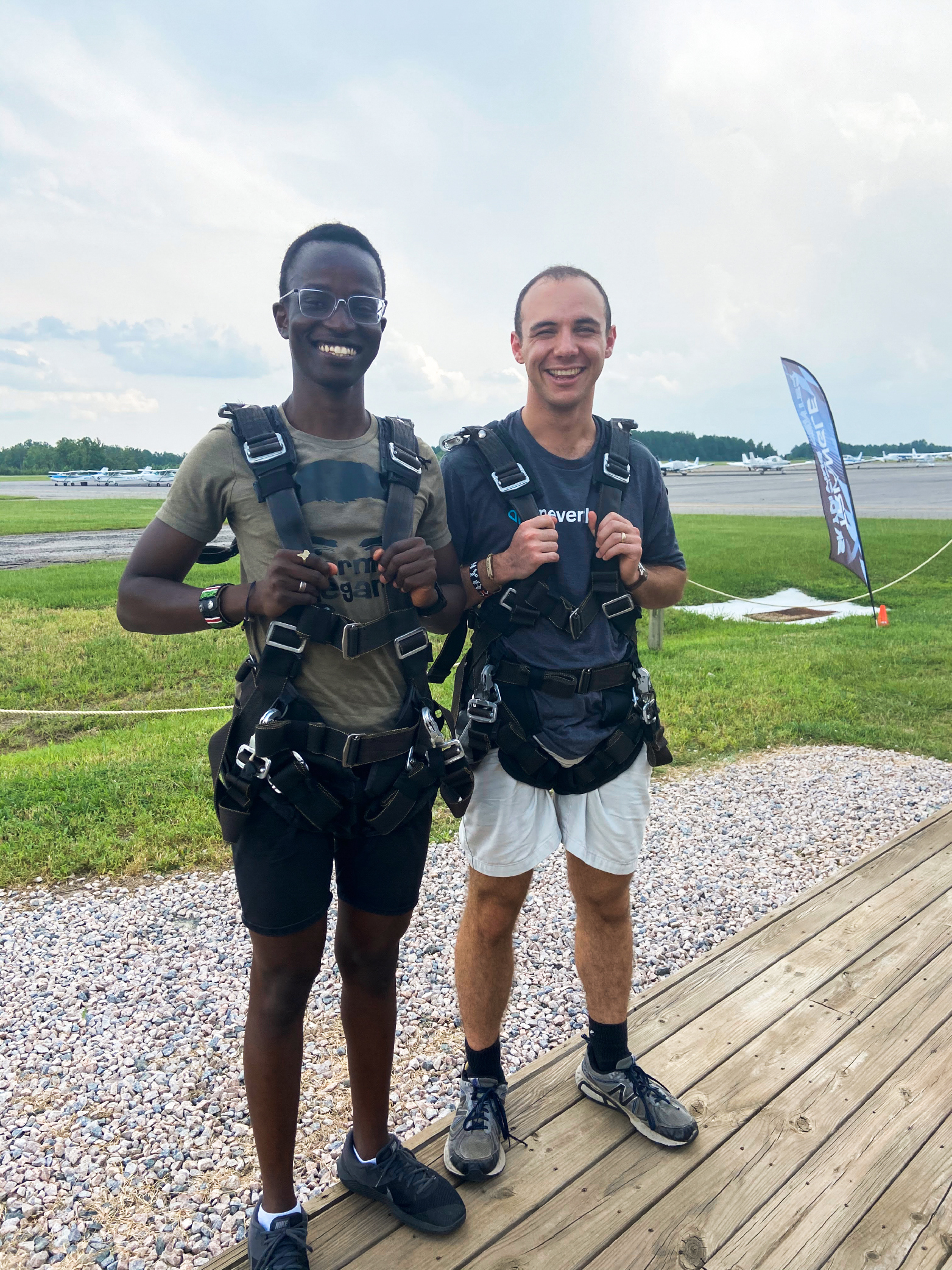 It all started as many things at Simple
Charity do...
...that is, with a crazy idea! During Simple Charity's 2021 summer internship, our college interns set out to raise $10,000 for Neverthirst, an outstanding charity that seeks to provide clean and living water for the unreached. Two of our interns, Jesse Kinya and Kathia Smith, challenged Brian Grasso (our founder and CEO, and their boss) to face one of his greatest fears—heights. Brian agreed to a deal: if we were to hit our goal, he would jump out of an airplane.
Donations poured in, and by God's grace, we raised $10,508! So, on July 31, Jesse and Kathia happily took Brian to thrust aside his fears and go skydiving. And...(drumroll)...they survived.
According to Neverthirst, every $25 serves one person with clean water. By that calculation, we were able to serve around 417 people—the size of an entire village! Would we have hit our goal without Brian's vow? God only knows. But today, the entire Simple Charity team wants to encourage you to take a Charity Challenge.
It could just mean the difference between dirty or clean water for a neighbor in need.
HOW IT WORKS
Make your challenge. Take your challenge.
Pick a charity to support from our vetted list of 25 charities.
Set a fundraising goal. Consider setting multiple "mini" goals and doing challenges at each one.
Decide something crazy to do if you hit your charity fundraising goal(s).
Let us know about your Charity Challenge with the form below. We will get back to you shortly!
Make a Facebook fundraiser, announce your challenge, and begin raising funds!
When (or if) you hit your goal, take a video of you completing your challenge and share it with the world!
HOW SIMPLE CHARITY WILL SUPPORT YOU
Reimburse
We will reimburse a portion of the costs from your challenge, up to 100% depending on the specific expenses.
Promote
We will share your Facebook fundraiser with our network to help you hit your goal.
Advise
We will provide fundraising tips to help you get started.
ENDLESS POSSIBILITIES
Only requirement? Make it
conversation-starter worthy!
Shave your head
Dye your hair
Climb a mountain
Bungee jumping
Run a marathon
Speak in pig latin for a day
Wear something weird in public

for a day
Consume a crazy spicy food
Do x number of pushups
so, what are you waiting for?
We're here to take this exciting journey with you! Fill out the
form below and we'll be in contact with you soon.