From Fear to Love During a Pandemic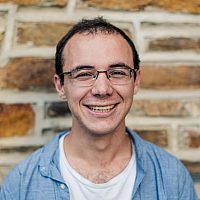 Brian Grasso | Founder & CEO | Simple Charity
As I write this on Holy Saturday, I am reminded that solidarity is an Easter-weekend virtue. There is no greater example of a person of authority sharing the vulnerability of the powerless than Jesus on the cross. And there is no greater example of the abundant life that paradoxically flows from sacrificial concern for others than His resurrection.
When we practice solidarity with the vulnerable, we move from fear to love, and this is important, because Christians are not people of fear. "For God gave us a spirit not of fear but of power and love and self-control." (2 Timothy 1:7)
For those of us who are Christians, we believe that we have a spirit (the Spirit) of power and love and self-control. What are power, love and self-control?
Power: We have capacity to act and influence our world.
Love: We have self-giving, others-centered concern.
Self-control: We have the ability to discipline and deny desires that are not good.
Power, love and self-control lead us invariably towards action and away from fear. We all know that action is one of the best antidotes to fear, especially when our action is on behalf of those who are more vulnerable than us.
I believe that we need to learn solidarity with the vulnerable in order to move from fear to love during this crisis. Virtues are character traits that are formed when our actions become habits and our habits become a part of who we are. I want to share five formative practices that cultivate the virtue of solidarity with the vulnerable. If you want to, you can start practicing them today.
1. Hoarding --> Generosity
From April 5th to April 10th, Walmart alone sold enough toilet paper for every American to have a roll. Across the country, the retail giant is running out of paper products and hand sanitizer as Americans rush to stock up for a household crisis.

Toilet paper is a silly example of a larger, more serious temptation. The International Monetary Fund is predicting the worst global economic recession since the Great Depression. While unprecedented numbers of Americans lose jobs and many in the developing world struggle to buy food, the wealthy and well-employed are facing a very alluring temptation: To aggressively save money to protect themselves from an unpredictable future.
What does it look like to be people of power, love and self-control in a global recession? It means that Christians who are able should practice radical generosity. The words "who are able" are key words here. To those in the church losing jobs and struggling to get by, God does not expect you to give what you do not have.
But for Christians with stable employment, consider giving more now than you have ever given before in your life. If you have a stable job and are receiving a CARES Act check that you do not need, consider giving all of it to charity.
My wife and I are recent college grads with tens of thousands of dollars in student loans and entry-level, yet stable, jobs. Because there are folks with more urgent needs than ours, we will be giving our $2,400 government check to vulnerable people around the world. We'll be supporting two organizations serving some of the world's most vulnerable people: Tearfund and HOPE International.
Jesus warns us about sharing the kind of information I just shared, but I actually don't see this particular gift as an example of radical generosity. It is not a sacrificial gift; it's an easy one. We already had enough. Our jobs are secure, and we're going to receive a surprise $2,400 check that we don't need.
I don't share this to boast but to challenge you to do the same. If you need your check, you need it. No shame there. But if you don't, consider giving it – all of it, or whatever portion you don't need – to address needs globally and locally. Why? Hoarding flows from, and produces more, fear. Generosity is rooted in love.
2. Social media --> Prayer
The global social media platform WhatsApp has seen a 40% increase since the start of this crisis, while Facebook notes that time spent on its apps (WhatsApp and Instagram included) has increased by 70%. If I'm honest, these numbers probably are reflected in my own social media usage.
For some reason, all of the wonderful things that I tell myself that I would do if only I had more time are the things that I ignore when I finally do have more time, things like prayer and in-depth studies of Scripture. The problem is never the amount of time I have but what I choose to make a priority.
This past week, I began a new daily practice of prayer, systematically interceding for people in various spheres of my life: my family, close friends, my organization's stakeholders, the students we minister to, etc.
Now is a wonderful time to consider how you can enhance your prayer life too. Notice that 2 Timothy 1:7 says that God gives us a spirit of power, love and self-control. We cannot overcome fear on our own. When it comes to prayer, start small and simple. Consider praying the Lord's prayer daily if you don't already.
Social media can multiply our anxiety and fear. Prayer, on the other hand, produces love.
3. Escapism --> Contemplation
The release of Tiger King on Netflix came at an amazing time for the show's producers. It is now the number one show in the country with its sensationalized stories of American zoo owners with exotic animals and all kinds of problems. While social media draws us deeper into the swirling economic and health crises caused by the coronavirus, escapism takes the opposite approach as we attempt to tune out the problems of the world by binging wacko docuseries about tigers.
There are certainly plenty of options – Netflix, Hulu, Disney+, Prime Video, HBO Now, etc. – for us to fill our leisure time with entertainment while sheltering in place.
I am not against movies and shows. I believe that God created us to benefit from experiencing and telling stories. Streaming services can help us find some balance and rest in a difficult, often monotonous season. That said, we should also take time to intentionally contemplate the world and those suffering more than us.
One great way to do this is by fasting, from food, entertainment, or some other form of escape. Consider dedicating a day this week to prayer and fasting on behalf of the vulnerable. Plan on taking 15 minutes in the morning, 15 minutes after lunch, and 15 minutes in the evening to pray during your day of contemplation. Pray for those who have less than you. This simple, one-day-long practice will ground you, steady you, and turn you outward rather than inward.
Contemplation brings us deeper into reality so that we confront and overcome fear, get some perspective, and love others better.
4. Self-pity --> Gratitude
One of my favorite authors is Oswald Chambers. I read his devotional My Utmost for His Highest every day as part of my morning ritual. He has a few phrases that he repeats often. One that I find particularly shocking is, "Self-pity is satanic."
Why such strong language? Well, because gratitude is at the very heart of Christianity, and self-pity is the opposite of gratefulness. Gratitude is at the heart of Christianity because grace is central to the Gospel story. God gives us grace as a gift. What's the proper response to a gift? Self-pity? No, of course not.
Imagine giving someone you love a gift – say, a new pair of shoes – and them responding with "I can't believe that I still don't have that shirt I want" without ever even saying thank you for the shoes. We all know this would be rude. And yet, God gives to us daily. He gives us daily bread. He gives us family and friends. He gives us a beautiful world with sunsets just as colorful as they were before the coronavirus. What do we say in response?
We ought to say thank you, daily. Consider starting a gratitude journal and ending each day by thanking God for three specific gifts from that day. This simple practice will change your life. Psychologists say that gratitude makes you happier. The Word of God says to give Him thanks and praise at all times. I promise you a gratitude journal is worth the five minutes per day.
You will begin to see that you have enough. Freed from scarcity and fear, you'll be able to cheerfully give and sacrificially love.
None of us want to give our grandparents the coronavirus and see them end up on a ventilator. None of us want to lose our jobs or to see family members lose theirs or, heck, to run out of toilet paper when we need it most.
While clinical levels of anxiety should be handled with professional help, nearly all of us regularly struggle with some anxiety. What does the Bible say about our anxieties? It's quite clear. Peter says, to "cast all your anxieties on Him, because He cares for you." (1 Peter 5:7)
Once a week, consider listing out the three things that you are most anxious about to God. Pour out your heart to Him. Then, focusing on one thing at a time, tell Him that you trust His plan for you. Tell Him that you trust that He will work all things for your good (Romans 8:28), that He has good works prepared for you to do (Ephesians 2:10) and that He will supply all of your needs as you seek first the Kingdom (Matthew 6:33).
In other words, once a week, cast your burdens and anxieties on God. Consider journaling this process. Putting words on paper to name your anxieties and give them to God is a powerful exercise. Always remember this exhortation from Paul:
"Do not be anxious about anything, but in everything by prayer and supplication with thanksgiving let your requests be made known to God. And the peace of God, which surpasses all understanding, will guard your hearts and your minds in Christ Jesus." (Philippians 4:6-7)
Though peace can feel elusive, the practice of casting our anxieties on God is very practical and yields the fruit of incomprehensible peace.
Moving from Fear --> to Love
Fear is rampant these days. The five practices that I wrote about in this article take very little time. You are not too busy to do them. But they will change your life. They will move you towards greater love for God and neighbor, greater solidarity with the vulnerable and greater concern to see justice happen in the world.
That is, they will cultivate within you the virtues of charity, solidarity and justice. The first is a theological virtue. The second a virtue in catholic social teaching. And the third is a cardinal virtue. These three virtues heal the world.
As we make choices to practice generosity, prayer, contemplation, gratitude and peace, we grow. All it takes is simple, life-enhancing practices: Giving what we do not need, praying the Lord's prayer daily, fasting for a day, thanking God for three things and casting our anxieties on Him.
If you would like to make a commitment to try out these practices for a seven-week period and to join a community of practice that seeks to practice solidarity with the poor, consider signing our Profession of Practice. If you do so, you'll receive encouraging emails for inspiration and accountability during your seven-week experiment.
As we grow, two things happen simultaneously: We begin to flourish spiritually, and we act on behalf of the most vulnerable not because we ought to but because we want to. We give sacrificially, even shockingly, with words of encouragement, acts of service, finances, supplies and prayer. All at once, we find healing and heal others. We move from fear to love. As the prophet Isaiah writes,
If you pour yourself out for the hungry
and satisfy the desire of the afflicted,
then shall your light rise in the darkness
and your gloom be as the noonday.
And the Lord will guide you continually
and satisfy your desire in scorched places
and make your bones strong;
and you shall be like a watered garden,
like a spring of water,
whose waters do not fail. (Isaiah 58:10-11)
If it is possible to be a watered garden in a scorched place, it is possible to flourish during the coronavirus pandemic. Will fear keep us from action? Or are we willing to take the risk of pouring ourselves out, trusting that the Lord will guide us continually?
Subscribe to get updates from the blog.